The Mandarin collar also known as Chinese or Nehru collar is an unfolded, stand up collar that rises a few centimetres up from the neckline. The edges of the collar either barely meet at the centre front or overlap slightly. If you're looking for an alternative to your regular go-to outfits and want to raise your style quotient, then you should definitely try this trend. The Mandarin collar is not only refreshingly elegant but also really versatile. This style lies between formal and casual wear allowing numerous variations.      SHOP NOW Going for a sophisticated formal look? Pair a plain white...
---
A Complete style guide for the Indian Groom The big fat Indian weddings – known for their styles, grandeur, tradition and magnificence. Gone are the days when the bride was the only center of attention at the wedding, the modern grooms share the spotlight equally with their brides. Planning the perfect outfit for each ceremony isn't easy as you need to color coordinate, choose the right prints, fabrics and silhouettes. Here's a style guide to get all your looks right- The Engagement The engagement ceremony is going to put you in the limelight and this is the best time to...
---
The Bandi Jacket, also known as The Nehru Jacket or the Modi Jacket; a timeless classic that is now a global fashion statement. These elegant jackets were originally called "bandh gale ka coat" and later became popular as "The Nehru Jackets". Ironically, Nehru never wore the Nehru Jacket himself, he preferred wearing Sherwanis or Achkans.   Although widely admired during Nehru's time, their popularity declined during the 80's. But these jackets have made a remarkable comeback as Modi Jackets, popularized by the Prime Minister himself.               SHOP NOW Apart from being elegant and timeless, these jackets are extremely versatile.  With...
---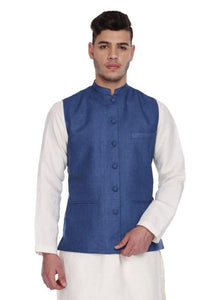 https://youtu.be/cHDeYabNDj4
---
It's that time of the year again. The festivities have begun, the online mega shopping sale is on (that's the first thing we notice these days before any occasion) and yes we all are looking forward to be in our best attire. With festival season embarking upon us, everyone has their own version of ethnic and traditional attires ready. As I have spoken about ethnic every season, I have tried to give you guys something which is doable and yet in vogue.  From exploring kurtas with layering of blazers on top to the new version of bandhgala with a shirt...